Ace's garage is where Ace and his pet monkey reside. It is located on the grasslands of Central Lalaloopsy Land. Many of the other Lalaloopsies come here to ask Ace to build new things for them, to check on inventions, to bring the latest news, or just to hang out.
His garage resembles a toolbox. It is a red-toolbox like house with one big window covered by popsicle sticks. It has a wooden door which is always seen open.
The walls are blue with white dots. There is a lamp on the ceiling. There are many nuts and bolts lying around Ace's house as well as unfinished inventions, cabinets, and tires.
Outside of the house, there are tires lying around. The grass is checkered, and the trees have nuts and bolts on them. It is unknown where Ace sleeps and eats.
Media Appearances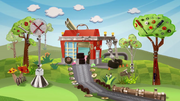 Visitors
Trivia
Gallery