Bundles Snuggle Stuff is Lalaloopsy Land's littlest eskimo! She is a cuddlebug who loves ice and snow, and enjoys catching snowflakes on her tongue, making snow angels, and eating icicles. Bundles is the younger sister of Mittens Fluff 'N' Stuff. Her name is based off of the verb where you warm yourself up by snuggling as well as the word stuff like thermal clothes.
About Bundles
Appearance
Bundles, like her older sister, has brown skin with typical black button eyes and pale pink cheeks. Her hair is a slightly lighter shade then her older sister's however, and she wears it up in tiny pigtails and straight cut bangs. Her pigtails are often hidden with the hood of her polar bear one piece outfit.
Bundles' outfit is very simple, consisting of a pure white polar bear themed footy pajamas with a small zipper down the front and a big strip of velcro down the back. To match Mittens, Bundles wears a blue tulle skirt with a blue polkadot pattern.
Silly Hair Bundles wears a cute pink pajama outfit with slightly darker pink stripes and water blue lining at the neck, chest, and ends of sleeves. On the outfit are two single white buttons.
Pet
Bundles Snuggle Stuff's pet is a cute pink ball of yarn resembling a bear. It has black eyes and a black nose, and wears a blue bow on the top of its head.
Home
Main article: Mittens' house
Bundles lives in the snowy home with her older sister Mittens.
Trivia
January 6th is Cuddle Up Day.
In the movie, Bundles has an accessory she does not have in doll form: a pink bow worn on the right ear of her hoodie.        
The Bundles Snuggles Stuff mini doll has a red binky in her mouth unlike the full sized Littles doll.
Bundles is the only original little whose name doesn't start with "S". Altough her name ends with it.
She is one of the few Lalaloopsies with a removeable hood.
Bundles sometimes comes with a heart shaped cookie instead of her ice cream bar.
She is the only original Little to not have shoes. 
She has bangs like Squirt in her silly hair doll.
She, Blanket, and Whiskers have hoods.
Gallery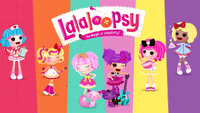 Click here to view the gallery.
Community content is available under
CC-BY-SA
unless otherwise noted.