Candle's house is where Candle, Pug, Wishes and Cupcake Pig reside. It is located on the grasslands of Central Lalaloopsy Land.
The house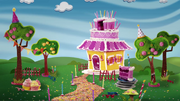 It is a one-story house, the base being made of a square yellow cake, the edges decorated with white piped icing. Her door and window shutters are pink with white icing details. The roof of her house is pink with icing shingles and circular rainbow sprinkles. The very top of her house is a large pink two tier cake with white and pink icing, decorated with candles, and the top layer has a slice taken out of it. The path to her house is edged with candle fences, and her trees are decorated with sprinkles and party hats. Near her house is a pink cake on a stack of plates with a single blue candle on top and a slice taken out of it.
Media Appearances
Visitors
There are no known visitors.