Candle Slice O' Cake is Lalaloopsy Land's biggest birthday party enthusiast! She loves to throw surprise birthday parties for everyone including herself! Candle is the older sister of little Wishes Slice O' Cake. Her name is based off of the traditional birthday candle that is placed on the cake, in her case however a slice o' cake!
About Candle
Appearance
Candle is a fair-skinned girl with black button eyes and pale pink cheeks. She has three vanilla blonde buns atop her head, which look to be made of sprinkles and frosting. She has a large pastel blue bow on the left side of her head, and a small pink birthday cake on the other side.
Candle wears a yellow and pink dress styled after a cake. Her sleeves are each made of white ruffled lace. Near her neck at the top section of the dress are three pink little loops, and below that there is a lining of bright orange material, and even below that is a white ruffled lace lining. The bottom section of her dress is decorated with four small orange circles and yellow loops. On her feet Candle is wearing yellow Mary Janes with large pastel blue bows on them.
Pet
Candle's pet is a bright yellow pug with normal black button eyes with eyelashes, and her eyes are outlines. She has one folded over ear, and the left side of her head is covered with pink icing and an orange lit candle. Her muzzle is covered in pink icing, and she wears a yellow piece of hard candy, looking like a sort of bow, on a blue cupcake wrapper skirt.
Home
Candle's home is a one-story house, the base being made of a square yellow cake, the edges decorated with white piped icing. Her door and window shutters are pink with white icing details. The roof of her house is pink with icing shakes and circular rainbow sprinkles. The very top of her house is a large pink two tier cake with white and pink icing, decorated with candles, and the top layer has a slice taken out of it. The path to her house is edged with candle fences, and her trees are decorated with sprinkles and party hats. Near her house is a pink cake on a stack of plates with a single blue candle on top and a slice taken out of it.
Trivia
Her birthday, along with her little sister Wishes', is decidable - you may choose which date she was sewn on to coincide with your own birthday.
She was released with Frost I.C. Cone and Star Magic Spells.
She is the only Lalaloopsy with 2 buns on the right side and one on the left.
Gallery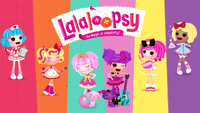 Click here to view the gallery.