Disclaimer
Warning: This page or section contains speculation that may not be accurate.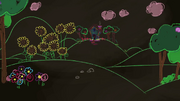 Chalk Land is a chalk-drawn dimension. Anything or anyone drawn on Spot's blackboard or within the land will come to reality. Like Lala-Oopsie Land, the only known way to access there is through a magical door though easier by drawing one.
Areas of Interest
See also
Community content is available under
CC-BY-SA
unless otherwise noted.