Cherry Crisp Crust is Lalaloopsy Land's very own cherry pie enthusiast. She's warm-hearted and comforting, and she knows how to make her friends feel better because she thinks life is a bowl of cherries. Her name comes from her favorite flavor of pie - as well as its delicious crispy crust!
About Cherry
Appearance
Cherry is a fair-skinned Lalaloopsy girl with basic black button eyes and pale pink cheeks to match her pale pink hair. Her bangs are curled and she wears a big vanilla scoop on her head with a cherry in the center.
Her dress consists of a red picnic blanket style blouse with red bow at the neck, a red belt with white lining, and the skirt is made to resemble a pie and made out of a thin plastic material. Also worn are white and red striped panty hose and tall brown boots with red coloring.
Pet
Cherry's pet is a blackbird with a red bow on its head. It has some cherries in its mouth and is constantly sneaking snacks!
Home
Main article: Cherry's house
Her house is set up like a bakery with a menu offering cherry pie. On the wall there is a pie cooling rack along with various cooking implements. The top half of the room's wallpaper is blue polka dotted and the bottom is wall papered with wavy lines like a crust. The door and eves are red and the awning is red and pinked striped and decorated with two cherries.
Trivia
February 20th is Cherry Pie Day.
She shares her birthday with Little Bah Peep.
Her pet probably came from the nursery rhyme "Sing A Song of Sixpence," where 24 black birds were put into a pie.
Cherry's pet black bird has little shoes on.
There were changes on her full size doll.
Gallery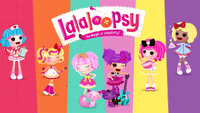 Click here to view the gallery.
V

•

E

•

D
Main Lalaloopsy