The Great Lalaloopsy Adventure
The Great Lalaloopsy Adventure was a photo contest that ran from December 7th 2010 - January 3rd 2011 "Take darling pictures of your Lalaloopsy in front of landmarks, cool backgrounds or fun places for a chance to win Lalaloopsy prizes! "
Go LALA Sweepstakes
Golden Button Sweepstakes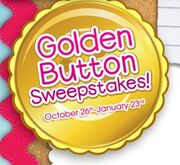 Golden Button Sweepstakes was a sweepstake drawing that ran from October 26th 2011 - January 23rd 2012.
There were 10 weekly drawings that featured different lalaloopsy merchadise including merchandise not yet found in stores. The final Grand Prize that ran after the 10 weeks included all lalaloopsy mini merchandise available up to that time.
A link to the information page on lalaloopsy
I'm A Superstar Sweepstakes
PRIZE (1): Grand Prize Winner ("GP Winner") will receive a four (4) day, three (3) night trip for GP Winner, one (1) friend and two (2) guests (one of whom must be the Parent of GP Winner) (collectively "Guests") to Los Angeles, CA (the "Trip Package") http://ads.nick.com/sponsors/2012/mga/lalaloopsy/ ...this needs more info...