Coral Sea Shells is super-imaginative and loves to pretend she's a real mermaid. She wishes she could even be one sometimes! Her favorite hobbies are swimming with the fish and eating seaweed salad. Her name is based off of coral reef and seashells.
About Coral
Appearance
Coral Sea Shells is a fair skinned girl with pink cheeks and bright magenta pink hair worn in low pigtails with a sky blue bow with a small clam. She normally wears a blue mermaid costume consisting of a blue top with frilled sleeves and small white spots on the shirt, a soft blue frilled skirt, and a shiny blue mermaid tail.
When her hair becomes wet it will turn purple.
Her alternative outfit is a pink bathing suit with white polkadots, a frilled skirt piece, and a blue shiny ribbon to tie around her neck.
Pet
Her pet is a yellow-orange blowfish that can squirt water. 
Home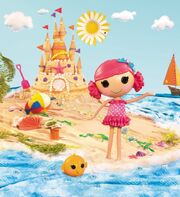 She has a mermaid house by the beach in the shape of a big sandcastle. It's near the water so that she can always go in for a swim or simply look at the view.
Trivia
March 22nd is World Water Day.
She is based off Ariel from The Little Mermaid.
She is the second doll not to have shoes.
She is the first to have color changed hair.
V

•

E

•

D
Main Lalaloopsy