Ember's fire station is where Ember, Dalmatian, Red and Chili Pepper reside. It is located on the grasslands of Central Lalaloopsy Land.
The Fire station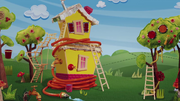 The station almost resembles a normal house. It is orange, has a huge hose going around the entire building, and even has a red fire alarm bell. Ember has a grill and a trampoline nearby, as well as some extra hoses and a small river flows out of one of her giant hoses. Ember's home most likely acts as Lalaloopsy Land's fire station, which gives her the responsibility of using her long and winding hose to douse any sudden fires that might occur.
Media Appearances
Visitors
Trivia
In the poster, you can see Jewel Sparkles' cat stuck in one of the background trees.