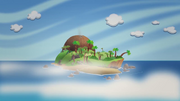 Disclaimer
Warning: This page or section contains speculation that may not be accurate.
The Island of the Smoky Peak is a tropical island situated across the Western coast of Lalaloopsy Land. It is isolated and only inhabited by the natives namely Mango Tiki Wiki, Kiwi Tiki Wiki and the exotic critters.
Geography
It is tropical island composed of three sections. The first section consists of a small beach, the second is a large, and a jungle. The third section is the volcano itself represented by a broken coconut in the upper section where smoke comes from it.
Flora
Coconut trees make up the most, if not, all trees in the island, though other plant life such as the Exotic Honey Petal, known for being an alternative for sugar.
Fauna
Animal life in the island are mostly populated by tropical birds, most of it though are multi-colored parakeets.
History
Home to a group of isolated but friendly natives and believed to be place of "treasure", it had became a welcoming attraction to pirates and treasure hunters alike. It has been known to have been visited by pirates (even before Patch Treasurechest arrived).[1]
In "Mango's Mainland Holiday", Patch arrived in search of treasure, though not what he was looking for. He took an interest in Mango and had her introduced to the mainland and its culture. Mango returned shortly and brought along with her some gifts and lessons from her mainland visit.
In "Lalaloopsy: Festival of Sugary Sweets", Whirly Stretchy Locks came to the island in search for the Exotic Honey Petal and succeeds but fails to extract it. She also never encountered Mango and/or Kiwi.
Areas of Interest
Map
References