Lalaloopsy Tinies are a line of micro-sized Lalaloopsies that were first released in 2014 and feature over 100 collectable characters.
About
All of the original Lalaloopsy characters are now tiny, and every one is sew different and totally collectible! With over 100 Tinies available, you can choose from 3 packs, 10 packs, or even a Play 'n' Go house that you can carry them all in and play wherever you go!
Series Assortments
Series 1
Series 2
Series 3
Series 4
Series 5
Mittens' Snow Day
Chair
Fireplace
Fridge
Sled
Polar Bear
Mystery Item
Crumbs' Bakery
Chair
Counter
Table
Mouse
Oven
Mystery Item
Bea's Schoolhouse
Desk
Shelf
Owl
Chair
Chalk Board
Mystery Item
Rosy's Pet Hospital
Bear
Chick
Bunny
Racoon
Bed
Cart
Scale
X-Ray
Mystery Item
Blossom's Garden Party
Hammock
Table
Chair
Gate
Wheelbarrow
Mystery Pet
Jewel's Palace
Persian Cat
Wardrobe
Chair
Bed
Ottoman
Lamp
Mystery Pet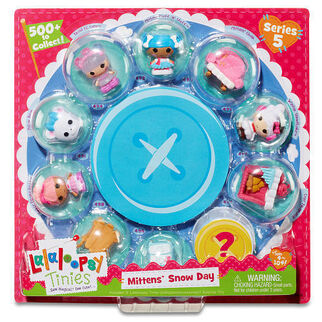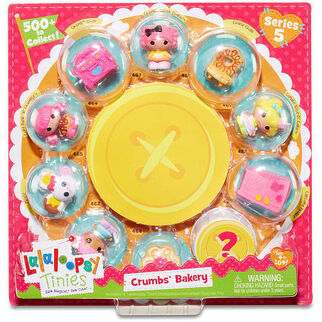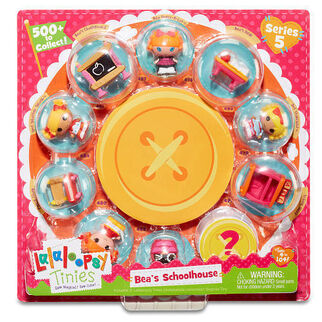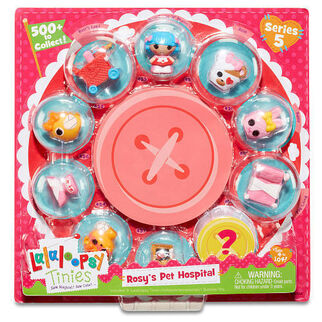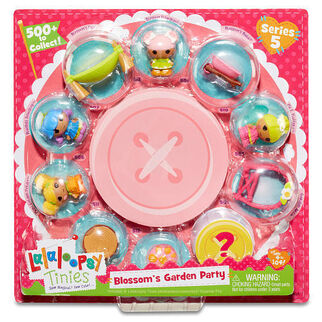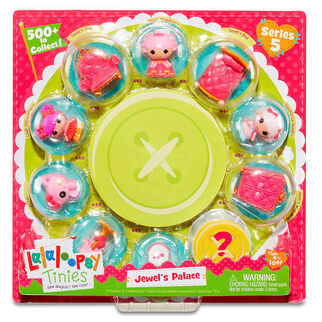 Series 6
Jewel's Boutique
Crumbs' Café
Rosy's Care Center
620: Dot Starlight
621: Bear
622: Bird
623: Comb
624: Bed
625: First Aid Kit
626: Cart
627: Scale
Sunny's Farm
Jewel's Princesses
Storm E.'s Rock Band
Crumbs' Sweet Friends
Spot's Artists
Rosy's Patients
Dot's Feathered Friends
657: Dot Starlight (Glitter)
658: Bird
659: Parrot
660: Mystery Pet
Play 'n' Go
Crumbs' House
Mouse
Oven
Cake
Tea Kettle
Tea Cup
Jewel's House
Persian Cat
Mirror
Purse
Perfume
Mirror
Rosy's Pet Hospital
Bear
Dalmation
Bed
Clipboard
First Aid Kit
Stethoscope
Sew Royal Castle
Unicorn
Carriage
Glass Slippers
Treehouse
Butterfly
Flower
Watering Can
Shovel
Rake
Scoops' House
Ice-cream Cat
Scoop
Ice-cream Bowl
Ice-Cream Cone
Table
Tippy's House
Swan
Chair
Music Player
Flowers
Curls' House
Pink Bear
Orange Bear
Chair
Porridge
Scarlet's House
Other
Lalaloopsy Tinies Jewelry Maker Playset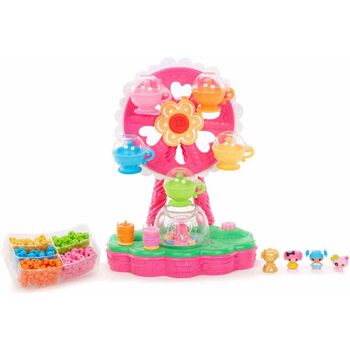 Design and create your very own jewelry with the Lalaloopsy Tinies Jewelry Maker Play Set!
Details:
Automatically strings beads
Includes four Lalaloopsy Tinies, Jewel Sparkles, Crumbs Sugar Cookie, Mittens Fluff 'N' Stuff, and a Persian cat.
Four steps to create adorable accesories:

Choose a lanyard string color
Choose a bead color from the ferris wheel and drop them into the jewelry maker
Press the button to turn on the jewelry maker and watch the beads get stringed magically
Add Tinies dolls to your jewelry

Sew many designs to create!
Trivia
The Tinies line is the successor to the Micro Lalaloopsy line.
Rosy's name is misspelled as Rosie on the "Rosy's Pet Hospital" packaging label.
Each Tiny has holes in them, allowing you to turn them into jewelry.
In Seasons 3 and 4, the Lalaloopsy Tinies come with a jewelry pack instead of a surprise character.