Lalaloopsy Micro Figurines are sew-itsy, sew-teeny and sew-sweet you'll want to collect them all! They come in a sealed surprise sack - open them up to see who you've got!
These collectable cuties are inspired by favorite Lalaloopsy characters. Each Micro comes with a folded up sheet, and a sticker with a small heart with a number on it in the lower corner. One can use the hearts to mark the sheet and determine which Micro they have or which they still need.
Series 1
Listed in order of series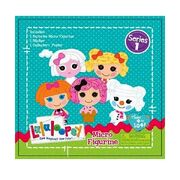 Series 2
Listed in order of series
Bea and Owl Mix
Pink Crumbs Sugar Cookie
Orange Bea Spells-a-Lot
Hot Cocoa Mittens Fluff 'N' Stuff
Gingerbread Crumbs Sugar Cookie
Clown Peanut Big Top
Paint Splatters Spot Splatter Splash
Crumbs Blank Mold
Mystery Micro
Series 3
Listed in order of series
Milk & Cookies (Pillow Featherbed)
Peanut Big Top
Scarecrow (Sunny Side Up)
Jewel Sparkles
Blue (Mittens Fluff N Stuff)
Night Sky (Dot Starlight
Cow (Berry Jars N Jam)
Chick (Sunny Side Up
Blank Mold (Bea Spells a lot)
Pink (Tippy Tumblelina)
Jam (Berry Jars N Jam)
Series 4
Mouse (Crumbs Sugar Cookie)
Mystery micro-Card suits (Misty Mysterious)
Traffic Cone (Bea Spells a lot)
Teacher (Bea Spells a lot)
Skeleton (Patch Treasurechest)
Sunny Side Up
Marina Anchors
Cat (Jewel Sparkles)
Blank Mold (Marina Anchors)
Yellow (Dot Starlight)
Series 5
Tippy Tumblelina (Swan)
Patch Treasurechest (Parrot)
Peanut Big Top (Purple)
Patch Treasurechest (Orange)
Peanut Big Top (Popcorn)
Dot Starlight (Polka Dot)
Blank Mold (Blossom Flowerpot)
Mystery
Other
Some parents have reacted negatively to the surprise packaging (facebook)
Trivia
Every series to date has included a blank mold (of a certain character). It is unknown the exact purpose of this, but it could be meant for custom Micros.
The line was released in 2012, but was discontinued a year later. The Lalaloopsy Tinies replaced them in 2014.
Community content is available under
CC-BY-SA
unless otherwise noted.