Mint E. Stripes is Lalaloopsy Land's very own resident candy enthusiast who has the biggest sweet tooth for anything minty! She's a cool blast of fresh air who loves to spin in circles really, really fast until she falls down laughing. You always know she's on her way because of the crinkle in her step. Her name comes from her minty appearance - as well as the swirly stripes that decorate all of the candy!
About Mint E.
Appearance
Mint E. Stripes is a fair skinned girl with the usual black button eyes and peachy-pink cheeks that blend in well with her skin. She has white and red swirled hair worn in double buns held with sky blue bows with tiny white pieces that make her hair look like wrapped candies. Her bangs are curvy on the sides with one big dip centered in the middle of her forehead with a big swirl.
Mint E.'s outfit seems to be a pure white dress with a very long red belt that wraps around her entire body. She wears white frilly socks with red, fancily styled flats and sky blue and white swirling stockings.
Pet
Her pet is a purely white dog with black button eyes and nose. Its cheeks are red hearts, matching its single piece of hair, ear stripes, candy-cane tail, and collar. On its head is a big sky blue bow in the same hue as the blue on Mint E.
Home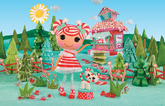 Mint E. lives in a vibrant red and white peppermint shack painted in stripes and swirls. The shack has a large window with an awning over it which makes it apparent that it acts as her very own mint candy shop. The surrounding forest area is composed of many tall green pine trees kept within a perimeter of peppermint fencing. 
Trivia
V

•

E

•

D
Main Lalaloopsy