Mittens Fluff 'N' Stuff is Lalaloopsy Land's biggest enthusiast of all things snowy. She loves hot cocoa, snow fights, and snuggling by the fire. Mittens is the older sister of little Bundles Snuggle Stuff. Her name is based off of mittens, one of the items that can be worn during the winter, fluff as in fluffy snow, and stuff as in thermal clothes.
About Mittens
Appearance
Mittens is a tan-skinned girl with carnation pink cheeks and black button eyes. She has long turquoise blue hair worn in high pigtails held with white bows and wrap around curved bangs.
She wears a hot pink and magenta striped long sleeved shirt with a fur vest with blue trim and a white pair of bloomers with a turquoise blue mesh skirt with indigo spots decorating it. She also has hot pink and magenta striped leg warmers and white boots with magenta and hot pink trims.
For the Super Silly Party line, Mittens has curled her hair and pulled her ponytails into thick sections of hair on each side of her head. To the left of her head is a hot pink yarn bow with multiple marshmallows sticking out of the top, held together by a stick. She wears a magenta top with a large, white fluffy collar and a pale blue skirt. The top layer is made of shiny material, while the top is translucent white tulle. Around her waist is a carnation pink ribbon. She wears plain magenta tights and a pair of white fluffy boots with a small magenta bow attached.
For the princess re-release, she has styled her hair in elaborate curls. She has a sky blue headband that has a sky blue bow on it and an ice jewel in the middle. Her top is light blue with a white collar and white puffy sleeves. She wears a turquoise blue icicle necklace, a pearly belt, and a puffy light blue tulle skirt. Her leggings are white, and she wears fancy white socks and pearly turquoise blue slippers with tiny snowflakes on them.
Pet
Mittens' pet is a white, knitted polar bear. It seems to have no legs or arms and simply hops to get around (or is lifted by Mittens).
Home
Trivia
December 21st is the First Day of Winter.
Her princess hairstyle is similar to Goldie Luxe's.
She and Bundles are currently the only Lalaloopsies to have their fabric origin's name changed. This is because eskimo is a racial slur towards Inuit people.
Gallery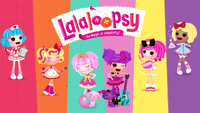 Click here to view the gallery.