Pepper Pots 'N' Pans is without a doubt the best chef in all of Lalaloopsy Land! She loves to cook, and her specialties are carrot soup and cheese sandwiches, but she doesn't like doing dishes. Her name is based off of the most commonly used spice for cooking, as well as the pots and pans she uses to cook all of her tasty meals!
About Pepper
Appearance

Pepper Pots 'N' Pans is a brown-skinned girl with black button eyes and pastel pink cheeks. Her hair is long and light pink, with wrapped strands of hair for her bangs. She wears her hair in pigtails with red bows.
Pepper wears a dress resembling a picnic table cloth with a red and peach-pink pattern. At the neck is a white frilled segment, matching the one on the hem line of her skirt. Her dress has 6 orange buttons and a white sash at the waist. Pepper's dress also has elbow length sleeves that are red and white striped with pale orange ruffled cloth at the ends. Her shoes are light orange Mary Jane's with red bows at the toe, matching the red socks she wears.
Pet
Pepper's pet is Piggy. It's a round, pink pig with a curly tail and button eyes with tiny reddened cheeks.
Home
Pepper lives on a very grassy land with a sandwich oriented pathway that leads to her home. She has a two-person table by her home so that others may eat outside of it.
Her house looks to be made out of cheese with many plants and objects adorning it. On the side of her house is a chalkboard and the porch roof is held up by big wooden spoons. On the top roof is a pot of some type of noodle dish matching her noodle trees.
Trivia
June 17th is Eat Your Vegetables Day.
Gallery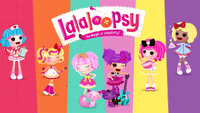 Click here to view the gallery.
V

•

E

•

D
Main Lalaloopsy