Peppy Pom Poms is the peppiest, most high-spirited, and energetic resident in all of Lalaloopsy Land! She's an upbeat team player who always roots for her friends. She can't jump very high, but she's great at shouting really, really loudly!!! Her name is based off of her can-do attitude, as well as her signature pom poms which she uses to conduct her routine!
About Peppy
Appearance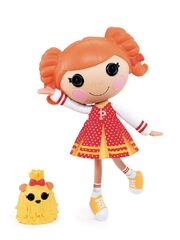 Peppy Pom Poms is a light skinned girl with light orange freckles and pale cheeks. Her burnt orange hair is pulled back into curled pigtails with red bows and she has a single tuft of bangs. Her revised version has a fuchsia "#1" under her left eye, and her hair is a curly twin-bun with a pink bow on the left side and the megaphone accessory on the right.
She wears a red cheerleader's dress with very tiny white polka dots and a white "P" on the chest. The sleeves are white with red stripes at the wrist while the skirt has big pale yellow slits going up on the folds and two yellow stripes going around the bottom. She also has on a pair of white socks with two red stripes along the top, and yellow and white tennis shoes.
Her revised version is a take on the modern-day cheerleading uniform consisting of a yellow top with a white "P" on the front and has red sleeves. Her skirt is made out of metallic red and purple layers, wears a longer tube socks, and a pair of red and white sneakers with yellow soles.
Pet
She has a pet dog. Its body is yellow and it's covered in lots of hair with some of it held up in a ponytail held with a red bow. It also has black button eyes and nose. Its breed appears to be a Pomeranian. The revised version is a redeco in orange with a pink bow.
Home
Main article: Peppy's stadium
She lives in a stadium themed house with on one side of it has a mega phone with a big sparkly P.
Trivia
September 9th is National School Spirit Day.
Peppy's look is inspired by old school cheerleaders.
A "pep rally" is held to boost the spirits of both the team and school.
Peppy is the only Lalaloopsy with curly pigtails and freckles.
Peppy has a Pomeranian because its nickname is Pom, like pom poms.
Gallery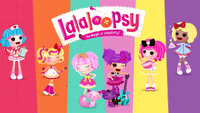 Click here to view the gallery.
V

•

E

•

D
Main Lalaloopsy