Pickles B.L.T. is the busiest rollerskating waitress in Lalaloopsy Land. She's a fast-talker with no time to spare. She loves to chew gum, call everybody "Sugar", and carry lots of plates at once, even though she sometimes drops them. Her name comes from the key ingredient to her famous signature specialty - the pickles in her very own pickle burger! She is also named for the delicious B.L.T sandwich Pickles serves to all of her customers.
About Pickles
Appearance
Pickles B.L.T is a fair-skinned girl with black button eyes and bright pink cheeks. Her hair is orange-red and styled in a short flare with curved bangs with few locks of hair curling down and a small parted cowlick. Her hair is worn with pastel blue bows.
She wears a black blouse with puffed sleeves, blue buttons, parts on sleeves and neck. She also has on a blue skirt with checkered lining and a white apron with black lining. She also wears blue socks with small ruffles and white roller skates with a pink lace and hot pink wheels.
Pet
Pickles' pet is a "hot dog" puppy, whose feet are hot pink wheels, matching her pink cheeks and red bow on her head. She also has a small tail and mustard designing her back.
Home
Pickles' home is the diner she works at. It appears to be a messy structure with a big diner sign just outside of it, held up with many forks and spoons. She has a picnic blanket set outside, along with a few tables, french fry trees, and plants.
Trivia
May 21st is National Waiter and Waitress Day.
B.L.T is an acronym for 'Bacon Lettuce Tomato', a burger made with strips of bacon, leaves of lettuce, and sliced tomatoes.
She was the second Lalaloopsy to have skates. The first one was Swirly Figure Eight.
Her pet puppy resembles a hot dog.
Gallery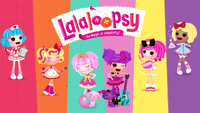 Click here to view the gallery.