Prairie Dusty Trails is Lalaloopsy Land's very own old west sheriff. She is a rowdy buckaroo who loves to twirl her rope and make lots of noise! She's always ready to giddy up 'n' go, and is always prepared for anything! Prairie enjoys square dancing, doing rope tricks, and riding off into the sunset. She can round up sew many things in the blink of a (button) eye! Prairie is the older sister of little Trouble Dusty Trails. Her name is based off of prairie grounds and leaving a trail of dust while riding a horse!
About Prairie
Appearance

Prairie Dusty Trails is a fair skinned girl with light pink-peach cheeks and black eyes. She has brown hair that she wears in braided pigtails held with magenta bows and with a small puff of bangs in the center.
Prairie Dusty Trails dresses in cowgirl attire, of course! She wears an orange blouse with rolled up sleeves, a pink skirt with red-orange fringe and yellow stitching along the bottom. She also has on red-orange gloves with fringe and white socks with orange cowboy boots with magenta detailing.
Prairie's Silly Hair outfit almost resembles her normal outfit. She wears a shiny magenta shirt with puff sleeves and a plain white collar and an orange vest with a sheriff's badge. Her skirt is orange and knee length with red and yellow markings, pink pockets, and a golden rope attached to her waist. Her shoes are red boots and she wears plain white socks.
Pet
Prairie's pet is a single cactus that is a teal-green color. She has black button eyes and a pink flower blooming on the side of her head. The cactus is held in a brown flower pot.
Home
Prairie lives in a saloon in the great open wilderness surrounded by scorching sand, desert cacti, and wide blue sky.
Trivia
August 13th is Annie Oakley's birthday.
Prairie has one of the few pets that is not an actual animal, but a plant instead.
Prairie's sister, Trouble Dusty Trails, has a pet stick horse (hobby horse) which is one of  the accessories that Mini Prairie comes with.
Silly Hair Prairie wears her original boots but in a different color.
A blonde Prairie is on a Lalaloopsy T-Shirt with Marina Anchors, Pix E. Flutters, and Mango Tiki Wiki.
Gallery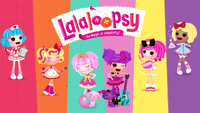 Click here to view the gallery.