Prince Handsome is the most suave and charming boy in all of Lalaloopsy Land. He's a perfect gentleman with a nice smile, a beautiful castle, and elegant clothes. He has excellent manners, though he sometimes forgets to use them. His name is based off of his royal upbringing, as well as his undeniable good looks!
About Handsome
Appearance
Prince Handsome is fair skinned with peachy-pink cheeks. His eyes are black while his hair is blond with spiked bangs and hair framing his face. He wears a big gold crown on the top of his head, along with a red long sleeved jacket with a yellow/gold sash across his chest, white pants, white socks, and high black sneaker-boots.
Pet
Prince Handsome's pet is a small gray mouse who wears a golden crown and a small gold sash. It's eyes, nose, and whiskers are black while the inside coloring of its ears are pale pink.
Home
Trivia
March 20th is Proposal Day.
Prince Handsome was introduced along with Cinder Slippers.
Gallery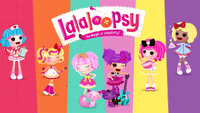 Click here to view the gallery.
V

•

E

•

D
Main Lalaloopsy