Princess Anise is the Princess of Knick-knacks.  She is a girly-girl who rules over the kingdom of all things precious and pretty. She loves sharing stories about her endless collection of keepsakes, but throwing tea parties is what she loves best of all!
About Anise
Appearance
Anise is a pale blue skinned Oopsie with neon-pink cheeks and typical black button eyes. Her right arm is pastel pink, while the other is pastel blue. She has bright pink and soft blue colored yarn hair with blue spots on the blue. Her bangs are neatly brushed with a single curly strand in the center. She wears her hair in buns at the top of her head, the right being blue and the left pink. The pink bun has a couple knitting needles pinned into it. She wears a tall golden crown.
Anise wears a dark magenta-pink dress with frilled white neck and frilly white and black ribbon around her waist. The skirt is slightly puffed with a translucent layer on top of it and small red ribbons along the bottom. Her left princess-puff sleeve is deep blue. Underneath her skirt is a black wire frame. Anise wears two different pantyhose/stockings and shoes. The right is black and white stripe while the shoes is pink. The left is light blue with blue spots and the shoe is black with a blue bow.
Pet
Anise has a blue kitten for a pet. It has a light blue body and spots on its head, resembling hair marks. It's eyes are normal black buttons while its cheeks are deep magenta. The inner right part of the kitty's ear is dark pink while the other ear has black.
Anise's pet wears a magenta bow on the top of its head and a white patch at its neck.
Home
Main article: Kingdom of Anise
Trivia
Gallery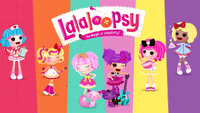 Click here to view the gallery.