Princess Juniper is the Princess of Know-How. Creative and clever, she's a little-miss-fix-it who can solve any problem that comes her way. Royally handy with her knitting needles, she's able to make something out of nothing to save the day at a moment's notice.
About Juniper
Appearance
Juniper has a yellow head and arm and her left arm is pink. She has bright yellow and pink colored hair with most of her bangs wrapping around the upper part of her head with few loose bangs curling her face, two being yellow and two being pink. She wears braided pigtail-buns on the side of her head, along with a tall golden crown. Her cheeks are a soft rosy-red.
Juniper's dress consists of a pale pink ruffled top and pink skirt with white ruffles and translucent black nylon material lining the bottom. The skirt has tiny markings decorating it. One stocking is white and pink and the other is yellow with pale yellow polka-dots. One shoe is pink with yellow bow, the other is yellow with a pink bow.
Oddly, Juniper looks a lot different in her official artwork. Differences include:
Hair is patterned while her pigtail-bun braids are much looser and spread out.
The crown's shape.
The dress is slightly different in shape and coloring.
White frilly cuff bracelets.
The right shoe matches the artwork but the left one does not have the black ribbon on the shoe that the art does.
The art has a yellow belt that the doll lacks.
Pet
Juniper's pet is a strange rabbit that is shaped like a tall mushroom. Its head is yellow with pink inside ear coloring and pale yellow markings on its right ear and spot on its head. It wears a magenta bow on the left ear. Its body is pastel pink with a pink heart on its tummy and pink around the neck.
Home
Main article: Kingdom of Juniper
Trivia
Gallery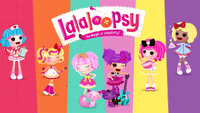 Click here to view the gallery.