Princess Nutmeg is the Princess of Silly. She lives in her own topsy-turvy kingdom where everything's all about fun. She loves dancing and making her friends smile. And though she's sometimes a bit clumsy, she always tries to do her best.
About Nutmeg
Appearance
Nutmeg is a pale pink colored girl with rosy-pale cheeks and a small heart-shaped beauty mark by her left eye. Her hair is a mixture of pink, blonde-orange, dark orange, and magenta. She has mostly straight bangs with a few loose curls and messily bunched curled buns on the upper parts of her head. She wears a golden crown. Both of her arms are pink, though the right one has tiny spots on it.
Nutmeg wears a dress consisting of a pale pink and purple striped top with a single pink button and white ruffled neck. The right sleeve is orange and the left is dark, dark pink. The skirt of the dress has multiple ruffles and orange layers, along with black nylon ruffled lining. Her left leg is pink with pale purple stripes, wearing a yellow-orange and pink bow shoe, while the right leg is yellow with many black tiny spots, wearing a pink shoe with orange bow.
Pet
Nutmeg's pet is a yellow, orange, and pink bunny.
Home
Main article: Kingdom of Nutmeg
Nutmeg's home is an upside-down teapot.
Trivia
Nutmeg is shown wearing a crown like the other Oopsie's, but in her official artwork she is shown to wear an ice cream hat.
Nutmeg has her own game called Tospy Turvy.
On Nutmeg's full sized doll her crown is resting on the top of her head, but on her mini doll her crown is slanted to the left.
She has the same color scheme as Fairy Tulip, who could be her little sister.
She was released along with Princess Anise, Princess Juniper and Princess Saffron.
Gallery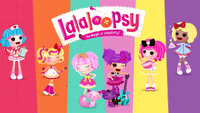 Click here to view the gallery.