Princess Saffron is the Princess of Hugs. She's warm and caring and loves making treats for all her friends. In fact, sometimes she cares so much that her feelings get mixed in with the batter, so her sweets always taste best when she's happy.
About Saffron
Appearance
Saffron has a very pale face/head with light pink cheeks and normal black button eyes. She wears her green and pink hair with slightly curvy bangs and curly hair worn in a swirling manner as pigtail-buns. Her right is held with a white bow while the left black. She wears a gold crown in the center of her head. Saffron's right arm is pink while her left is ivy-green.
She wears a very colorful outfit consisting of a black and white striped top with pink and black puff-sleeves. A silk, deep shade of red-pink bow around her waist and a pink translucent skirt beneath a two-layer blue translucent ruffle skirt on top of it with black lining. She also has a yellow leg with black polka-dots wearing a blue and pink shoe. Her left leg is pale blue stripes with black and green shoe.
Pet
Saffron's pet is a pink mouse with pale yellow inner ear coloring and a green tail. She wears a black bow on the center of her head.
Home
Main article: Kingdom of Saffron
Trivia
Saffron's pet is unknown as of the moment, due to earlier arts depicting her with a mouse, as does the mini doll, while the normal size doll depicts her with a cat-like pet.
Whilst the box art and full size doll has one black sleeve and one pink sleeve, Saffron's mini has one black sleeve and one green sleeve.
She was released along with Princess Anise, Princess Nutmeg, and Princess Juniper.
Gallery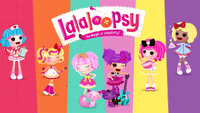 Click here to view the gallery.