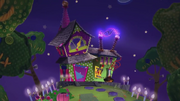 Scraps' mansion is where Scraps and her pet lab reside. It is located on the taiga of Northern Lalaloopsy Land.
The Mansion
Scraps lives in her own personal laboratory of a mansion on top of a hill. Surrounding the hill is a wall with a locked gate securing access to her home. Her house is decorated in many bits and bobs such as light bulbs and various lightning rods sticking out of the roof and walls.
Her home seems to be under a perpetual lightning storm, with dark stormy clouds in the night sky.
Wall Gate
It is the outermost part of the mansion. It is always locked and closed, however, it unlocks and opens itself to visitors.
Living room
TBA
Bedroom
TBA
Scraps' bed
TBA
Media Appearances
Visitors
Trivia
The mansion's setting is much different from the original poster.