Scraps Stitched 'N' Sewn is Lalaloopsy Land's scariest Frankenstein! She's a super-shy girl who's not very well put together. Not much of a talker, she dislikes crowds, but she loves making new friends. Her name comes from the scraps used to make her, and also the fact that she was stitched and sewn!
About Scraps
Appearance
Scraps is a frightening girl with ghoulish blue skin. Her cheeks are a pale pink that almost camouflage with her skin tone. She has a stitched scar by her left temple. Her night-sky black eyes match her hair which are pulled down into twin braided pigtails tied with lime green bows. A white streak crosses her bangs to the left of her hairline, which is homage to the Bride of Frankenstein's white streak.
Her outfit is a recolor of Dot Starlight's dress. The upper blouse part is a spooky purple with four black buttons in the center. Her ruffled skirt is lime green on the outside but the trim turns midnight black and makes up the inside as well. A black sash crosses the top of her skirt with a white string-like belt that has a bow in the center. Scraps wears different colored hi-top sneaker boots; one lime green with black knee-socks, and the other black with purple knee-socks. The lime green boots are tied with black shoe laces while the black boots are tied with lime green shoe laces. Scraps' look is the perfect monstrous creation!
Pet
Scraps' pet is a ghost lab with a lime green head and hot pink ears and lower body. The multi-colored fur might point out that like Scraps, her lab was assembled with different parts and that his head was attached to his body!
Home
Main article: Scraps' mansion
Scraps lives in her own personal laboratory of a mansion. Surrounding the laboratory is a small moat with an extended drawbridge securing access to her home. Her house is decorated in many bits & bobs such as light bulbs and various lightning rods sticking out of the roof and walls.
Her home seems to be under a perpetual lightning storm, with dark stormy clouds in the night sky. 
Trivia
August 30th is Mary Shelley's birthday.
She has a tiny stitch on her arm.
She is based off the Frankenstein monster.
She shares her birthday with Mallow Sweet Fluff.
Gallery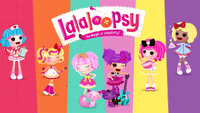 Click here to view the gallery.
V

•

E

•

D
Main Lalaloopsy