Scribbles Splash is Lalaloopsy Land's littlest artist! Like Spot, she is known for being very artistic and messy! She loves mixing colors to see which brand new color evolves as well as making plenty of spills. In her usual spare time, she will be finger painting. Scribbles is the younger sister of Spot Splatter Splash. Her name is based off the way little kids write, by scribbling.
About Scribbles
Appearance
Scribbles Splash has deep-tanned skin and normal black button eyes. Her cheeks are bright pink in color and she has yellow hair. Her bangs are sectioned and straight cut and she has two very small ponytails at the top of her head, a similar hairstyle to Bundles Snuggle Stuff.
Scribbles wears a red one piece with tiny white polka-dots and a yellow smock or bib with a red and white striped pocket and splashes of blue paint. She wears white and yellow shoes with pink shoelaces. Often Scribbles is covered in paint, especially her hands since she enjoys finger painting so much.
Pet
Scribbles' pet is a giraffe. It's red with black button eyes and big white spots all over its body. Its tail resembles a paintbrush with blue paint on the end.
Home
Main article: Spot's house
Scribbles lives with her older sister, Spot. 
Trivia
January 28th is Jackson Pollock's Birthday.
While both girls wear the same colors, their animals' patterns are different. Scribbles' has spots while Spot's has stripes.
Target lists her name as Scribbles Squiggle Splash.
Her hair color is inconsistent. While the promo image for the poster and full-sized doll show it as neon yellow, the actual doll is a golden yellow while her mini is a paler shade.
Her Silly Hair does not have the pink and blue paint on her hands.
Gallery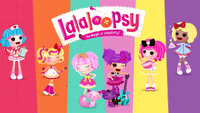 Click here to view the gallery.