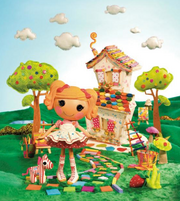 Spot's house is where Spot, Zebra, Scribbles and Giraffe reside. It is located on the grasslands of Central Lalaloopsy Land.
The house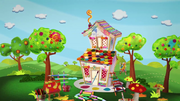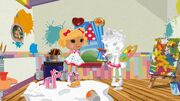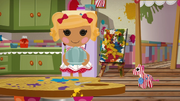 Spot lives in an artsy two story house set on top of a painter's palette!  The house has white walls, and rainbow tiles and crayons line her roof.  A colored pencil ladder leans against her wall and there are several easels on her lawn with her latest masterpieces.  A pathway of colorful erasers leads to her home.
Media Appearances
Visitors
Trivia
On the Lalaloopsy Land Map, She lives close to Rosy, Ace, Dot, Ember, and Peppy.