Sprinkle Spice Cookie is Lalaloopsy Land's littlest baker! She's got a huge appetite and also a serious sweet-tooth. Her favorite things are fresh cookies and licking cake batter from the bowl. Sprinkle is the younger sister of Crumbs Sugar Cookie. Her name comes from the common decoration on cookies, as well as spice, the opposite of sugar, and the cookie itself!
About Sprinkle
Appearance
Like her older sister, Sprinkle is fair-skinned with big black button eyes and soft pink cheeks. She has pink hair with straight cut bangs divided in sections and low, small pigtails worn at the lower-middle of her head. Often Sprinkle can be depicted with a chocolate stain by one of her cheeks or side of her lip.
Sprinkle wears a pink dress with magenta polka dots patterned all over it, along with a hand-knit pale yellow bib with frilled lining and the word "Yum" sewn onto it with pink string. She also has on a pair of yellow booties and plain white bloomers underneath her dress.
For the Super Silly Party, Sprinkle wears a shiny gold dress with a white curled design along the hem. The collar is made of lace, while a magenta belt rests around her waist with a magenta bow attached to it, held by a cookie heart in the middle. The petticoat is pink tulle with glitter applied. She wears a pair of hot pink booties with pale pink cream on the toe of each, worn with ruffled, short white socks. On her head is a pale pink hat with lemon-colored cream on top, resembling a cupcake resting on a white plate.
Pet
Sprinkle's pet mouse seems to be made out of cookie and has big brown eyes, icing whiskers and a cute red bow tilted to its left ear.
Home
Main article: Crumbs' house
Sprinkle lives with her older sister Crumbs.
Trivia
May 15th is National Chocolate Chip Day.
Sprinkle wears the same booties as Twinkle N. Flutters, except hers are yellow.
Her silly hair doll has purple hair.
She is the only lalaloopsy to have a stain marking on their face.
Her bottle is the exact same model as Blanket Featherbed's bottle, but in a different color.
Her shoes are yellow, but the silly hair doll wears green ones.
Gallery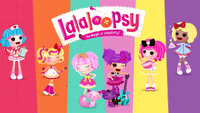 Click here to view the gallery.