Squirt Lil Top is Lalaloopsy Land's littlest circus performer! She is a performer and a bit of a showoff. Her best tricks are somersaults and juggling...but just one thing at a time. Squirt is the younger sister of Peanut Big Top. Her name is based off of the squirting flowers that clowns wear as well as a small circus tent that is the opposite of the big tops!
About Squirt
Appearance
Squirt is a fair-skinned girl with bright pink cheeks and normal black button eyes. Her hair appears to be neon purple in color with her bangs in a diagonal style on each side of her head and a single curl at the top point. Like a few other little siblings, she has low pigtails. Normally Squirt can be seen wearing an orange clown's hat with a pink flower.
She dresses in clown attire which consists of a body suit with pant-legs and no sleeves. One half of the suit is white with red polka dots while the other half is orange. Lining the cuffs of her pants and her collar are orange silk frills. She also has two magenta pom pom buttons on her outfit. Squirt wears zebra striped booties with fuchsia coloring at the toe, heel, and top.
For the Silly Hair doll, Squirt wears an outfit resembling footie pajamas. There are many patterns on it, like white with pink polka dots, white and black stripes, and sections of orange. The entire outfit has pink lining.
Pet
Squirt's pet is a peanut worm with black beady eyes and a nose. It has very pale pink cheeks and wears a pink ribbon around its neck.
Home
Main article: Peanut's circus
Squirt lives with her older sister, Peanut.
Trivia
January 19th is National Popcorn Day.
Her hair color is inconsistent. In the poster, Super Silly Party doll, and mini it appears lilac, while her full sized doll, silly hair doll! Dance With Me doll, and animated form have a different shade of purple colored hair.
On the back of the box, the word "somersaults" is misspelled "summersaults."
On the sisters pack in the image, Squirt's head is faced on her left side.
Gallery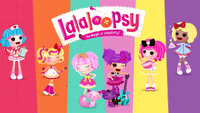 Click here to view the gallery.