Sunny and Berry's farm is where Sunny and her Chick, and Berry and her Cow reside. It is located on the grasslands of Central Lalaloopsy Land.
The Farm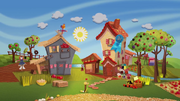 Sunny's house
Sunny's house is denim blue with a thatched roof. A weather vane with a chick is on the center of the tan roof. Windows with shutters that look like the roof and checkered squares are on the front of the house.
Berry's house
Berry's house is light yellow in a checkerboard pattern with the roof decorated with jam, berries and a pancake chimney. On the front of the house are windows with checkered shutters and on the other side of the house are multiple 1st prize ribbons.
Barn
TBA
Media Appearances
Visitors