Suzette La Sweet is Lalaloopsy Land's first lady of leisure! She's royally pampered, and perfectly primped. Her favorite hobbies are lounging about, eating fancy pastries, and strolling in the garden. Suzette is the older sister of little Mimi La Sweet. Her name is based off of French origin, while also incorporating her sweet tooth into it.
About Suzette
Appearance

Suzette La Sweet is a fair skinned girl with black eyes and pink-peach cheeks. She has a small beauty spot at the corner of her right eye. Her hair resembles a powdered wig, which was a fancy hairstyle colored white used for special occasions in the 18th century. Her bangs are slanted and pulled back to the upper left corner, while her hair is worn up with magenta bows.
Suzette usually wears a fancy dress.  Her original dress has a pink and white checkerboard pattern with a brighter pink skirt piece underneath with a ruffled lining. On her chest are three light blue bows, while the sleeves of her dress are very loose and elbow length, held with magenta bows. Suzette also has on transparent white stockings with ruffled cuffs, and light blue slip on her shoes with pink bows on her toes.
Pet
Suzette's pet is a small pink poodle. She also has white fur at the top of her head held with a magenta hair bow. Her eyes and nose are black, while her cheeks are pale pink. Poodle also wears a pearl necklace.
Home
Suzette lives in a very luxurious palace filled with many fancy pastries and baked goods, along with very fine resting spots, stone pathways, and a beautiful fountain. Often Suzette walks by here with her favorite parasol or hand fan.
Suzette's home is very fancy and beautiful.
Trivia
December 9th is National Pastry Day.
She was inspired by Marie Antoinette, who also wore a wig.
Her original prototype name before her official release was "Mimi A La Mode", the first part of this name is now used for Suzette's little sister, Mimi La Sweet.
She is the first ever collector Lalaloopsy.
She is a golden button sweepstake doll.
The fact that she has blue shoes and bows might be why she has a blue jacket in her Lalaloopsy Girls.
She is one of the few Lalaloopsies with a real name as well as her sister.
Gallery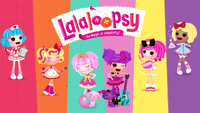 Click here to view the gallery.