Tippy Tumblelina is the most talented ballerina in all of Lalaloopsy Land. She's a girly girl, who loves being on stage... even though sometimes she falls off the stage. She is exceedingly graceful and loves putting on recitals for all her friends. Tippy is the older sister of little Twisty Tumblelina. Her name is based off of her unique way of walking - on her tippy toes! As well as her constant tumbling she includes in her dance act!
About Tippy
Appearance

Tippy is a fair-skinned girl with black button eyes and bright pastel pink cheeks. Tippy's hair is a pink-red color. She has straight cut bangs and long hair pulled up on her head, like strand pigtails, held with two small pink ribbons. Next to her each of her eyes are two small red stars which are most likely makeup or tattoo based art.
Tippy wears a silky, fancy ballerina dress. Her top is a reddish-orange color and small red bows on her chest surrounded by white lace. Her skirt is very silky and pink in many layers with purple lining and a thin light yellow part below it. Tippy wears pale pink pantyhose and magenta ballerina slippers with bright yellow ribbons that wraps around her legs.
Pet
Tippy's pet is a beautiful white swan. It has lashed button eyes and a small yellow-orange beak. She has a tuft of hair on the top of her head, held back with a pink bow.
Home
Main article: Tippy's stage
Trivia
February 2nd is "Two-Two, or Tutu".
She shares her birthday with Twinkle N. Flutters.
Tippy was introduced along with Blossom Flowerpot.
Her pet Swan is most likely based on the ballet "Swan Lake" in which a beautiful swan who loved to dance was originally a human girl turned into a swan from a curse.
Gallery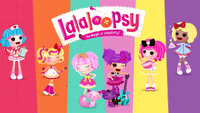 Click here to view the gallery.
V

•

E

•

D
Main Lalaloopsy
Community content is available under
CC-BY-SA
unless otherwise noted.