Trace E.'s house is where Trace E. and her pet zebra reside. It is located within Chalk Land.
The House
Trace E. lives in chalk drawn two story house set on top of a hill. The house has black walls, red tiles and a chimney on its roof. A red fence surrounds the house and around it are several trees and bushes. A pathway made of red chalk leads to her home.
Bedroom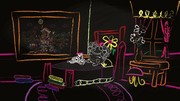 Currently the known interior of the house, the bedroom is possible located on the second floor. There is a portrait of Spot's house on one side, a purple rug below the bed, six pieces of big chalk around the bed and on another side of the room is a window covered in red curtains.
Trace E.'s bed
On Trace E.'s simple bed is covered with black sheets, a black pillow and black blanket. On the headboard, there is a yellow flower. Next to the bed is a wooden desk with a flower vase placed on top of it.
Media Appearances
Visitors
Trivia
Trace E.'s house is the only known residence in Chalk Land, however, her closest known neighbor is Spot which is only a draw of a door away.