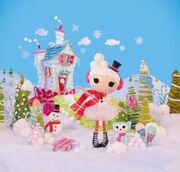 Winter's house is where Winter and her pet husky reside. It is located on the tundra of Northeastern Lalaloopsy Land.
The house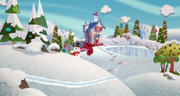 Winter lives in her own personal winter wonderland. Her house is built with blocks of stacked ice. While chilly, the house is wrapped tightly by a striped scarf around the foundation. Her door and window shutters are a jolly red with snowflakes painted on them. The house has round icy blue shingles on the roof.
Around her yard she has many Christmas trees wrapped in scarves, various snow cones sticking out of the ground, and piles of snowballs - as well as a friendly Snowman in the front yard to greet her friends.
Media Appearances
Visitors